eToro is not a binary option broker but rather a network for social investing. They do however offer you the opportunity to trade with binary options as well as a large number of other financial instruments. The selection of binary options is very large and their main focus is on shares.
Social economic networks such as eToro needs to be large to provide value to the member. The larger the network the more knowledge will be contained within it. eToro has more than 4.5 million members which makes it into one of the very best economy social networks to join.
One of the main features that attract people to eToro is the copy feature. If you do not feel that you know enough about a certain market or type of financial instruments you can choose to copy the trades of another successful eToro trader. You can devote a certain amount of money to emulate the trades made by a trader of your choice.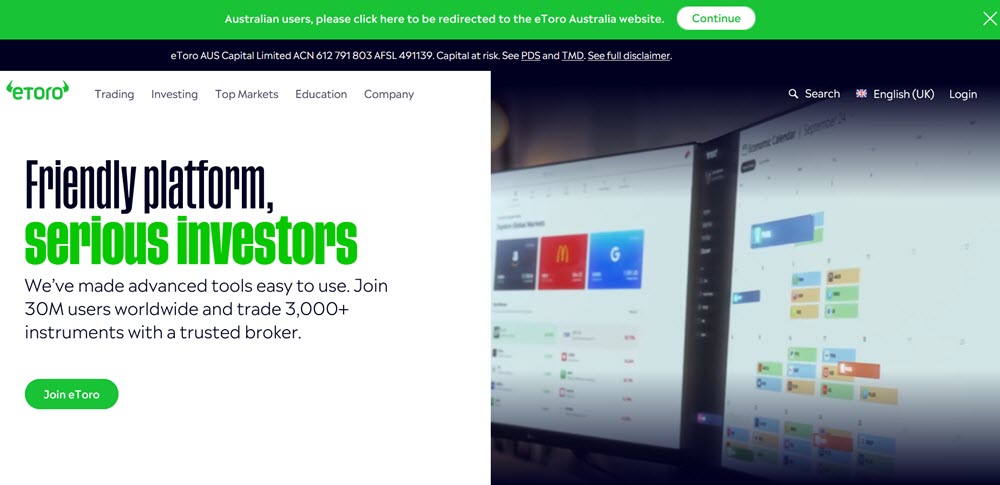 Short facts about eToro
| | |
| --- | --- |
| Owner | Privately owned |
| License | Cyprus Securities Exchange Commission (CySEC) and Financial Conduct Authority |
| Languages | English, French, German, Spanish, Italian, Russian, Chinese and Arabic |
| Mobile trading | Yes |
Short Facts
Trading platform
The trading platform is developed by eToro. It is easy to use and available in several different languages. The platform allow you to trade with several different types of financial instruments such as CFD:a and binary options. The binary options section is well structured and it is easy to find the option you want to buy. There is a wizard that can teach you exactly how to use the platform.
The most unique part of the platform is the earlier described copy function that allow you to automatically mimic another traders trades based on how much money you devoted to that virtual portfolio. All trades are mimiced using an amount in proportion to the original investment and how much money you devoted to your virtual portfolio. You will in other words invest the same percentage of your virtual portfolio as the person you are following are investing of his portfolio. The relative size of the trade will be the same. Read more about the copying function developed by eToro.
Trading accounts
eToro offer only one type of account but you can achieve different account status depending on your trading patterns and how many people that are copying you.
They also offer a demo account where you can trade with play money.
Binary option trading
eToro allow you to trade with a number of different binary options.
Underlying instruments
The focus of eToro is very clearly on individual shares. Almost 90% of their different binary options are based on underlying shares. eToro is not a good choice if you want to trade in binary options based on currencies, indexes or commodities.
Commodities
eToro provides only a small selection of commodity based binary options. You can trade with the most popular commodities such as gold but nothing more.
Index
eToro focus their binary options primarily towards the stock market but they do despite this only offer a very limited amount of index based binary options. They choose to instead base their options on individual stocks. You can find binary options based on around 10 different indexes.
Currencies
They offer a good selection of different binary options based in currency pairs. You can find options based on more than 30 different pairs.
Company shares
Stocks are the main focus of eToro. They offer you the opportunity to trade with binary option based on more then 300 different individual shares and they are constantly adding more. They offer options based on all the most popular shares such as Apple, Google, Coca Cola, IBM and many more.
Bonuses and other perks
eToro offers a long row of different bonuses and perks. You get a bonus when you first deposit money. This bonus is worth between 15-25% depending on how much you deposit. They do also offer a long row offer other bonuses you can get for different reasons. You can earn a lot of money and get a lot of perks by getting others to copy your trades. The more people that copy you the more money you can earn.
Customer service
The customer service is knowledgeable and available by phone and email.
Deposits and withdrawals
eToro makes it very easy to deposit and withdraw money. Among the accepted methods you will find VISA, MasterCard, Paypal, Skrill, Neteller, and wire transfer.
They do unfortunately charge a fee on all withdrawals.
Owner ship, licensing, etc
eToro is based in Tel Aviv, Israel and are licensed by Cyprus Securities Exchange Commission (CySEC) and the UK Financial Conduct Authority. The company is privately owned by its founders and investors.